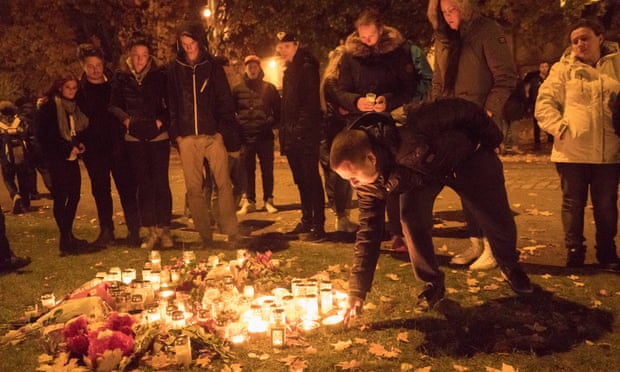 Sweden school attack: police investigate racist motive for double murder.
Residents of Trollhättan hold a vigil outside Kronan school for the two people killed by an attacker on Thursday. Photograph: Julia Reinhart/Demotix/Corbis

Swedish police are continuing to investigate an assault on a school that left three people, including the sword-wielding attacker, dead, as the country reacted with horror to the deadliest incidence of school violence for more than half a century.

Local media named the man behind the killings as 21-year-old Anton Lundin Pettersson.

His victims were a 17-year-old male pupil and a teacher, both of whom died of stab wounds. A 14-year-old boy and a 41-year-old teacher remain in hospital in critical condition.

The attacker, who posed with students before starting his killing spree at Kronan school in Trollhättan, an industrial city near Gothenburg, was shot dead by police.

Police investigator Thord Haraldsson told reporters that a racist motive was "part of the picture", but did not elaborate.

Police were able to piece together the killer's movements "by following the blood on the floor" that dripped from his weapon, Haraldsson added. This picture made available to AFP by a student shows the masked man armed with a sword posing with two other students before launching his attack. Photograph: -/AFP/Getty Images

On Thursday evening, dozens of people gathered quietly to pay their respects outside the school, whose pupils range in age from pre-school to high school, many of them the children of immigrants.

Some stood outside the school, holding a vigil and carrying posters reading "Why?" and "Why kill?".

"This is a black day for Sweden," prime minister Stefan Lofven said of the attack. "It is a tragedy that hits the entire country."

Lofven, who cancelled his scheduled program and rushed to Trollhättan, placing a bouquet of roses outside the front door of the school, declined to comment on Swedish media reports that the attacker had right-wing sympathies, saying that police were still trying to establish his profile.

The anti-racist organisation Expo, citing reliable sources, said it knew the identity of the attacker, who "during the past month showed clear sympathies with the extreme right and anti-immigration movements".

Mobile phone images of the suspect show a man in a helmet resembling that used by the Nazis, holding a sword and wearing what was described as a Star Wars mask. According to several witnesses, he allowed himself to be photographed with students, who took it to be a Halloween prank.

Police said the man carried more than one weapon, including "at least one knife-like object".

Fourteen-year-old student David Issa saw the assailant stab his teacher. "We were sitting in the [school's] cafe and then this guy came up who was wearing a mask and carrying a sword and he stabbed my teacher. I panicked and ran away," he said. Kronan school attack witness tells of panic.

Ahmed Hadi, a 25-year-old mathematics teacher at the school, said: "I saw a masked man wearing black clothes coming up the stairs, he was carrying a sword covered with blood.

"He moved to another classroom. The kids were scared. We turned the lights off, and put desks behind the door. We asked the kids to sit down and be calm. They're only 10 years old," he said.

The assailant was eventually gunned down by police in the hallway outside Hadi's classroom.

Amal Ahmed, mother of seven-year-old pupil Susan, said her daughter was terrified by the horror of what she witnessed.

"My daughter ... has been crying and talking the whole day about the blood she saw," she said.

"We are from Iraq. We left our country for security here in Sweden. We don't want violence, especially for our kids," she added. Map of Trollhättan, where the attack took place. Map of Trollhättan, where the attack took place.

Sweden's King Carl XVI Gustaf said the entire nation was "in shock" and that the royal family received the news "with great dismay and sadness".

The country's last school attack was in 1961, when a 17-year-old man opened fire at a school dance hall in the southwestern part of the country, wounding seven students, one of whom died later. Violent crime is rare in the country, which has strict gun-control laws. In 2013, there were 87 homicides reported in Sweden, a country of some 10 million people.

But the tragedy in Trollhättan has forced Swedes to ask if the traditional openness of their society may be putting pupils and teachers at risk. The school's cafeteria and library were both open to the public.

In June, the Swedish Schools Inspectorate fined the city council 600,000 kronor (£46,000) for "substantial shortcomings in the areas of security and the study environment" at Kronan school.